Out Of Character (OOC)
~~------------------------------------------~~
Personal Nickname (optional):
Eagle
Minecraft Account Name:
Eaglexhawk
How old are you:
17
What is your Time Zone/Country:
Eastern Standard Time | America
How good are you with the English language:
Living in America and being born here, I am fluent in it.
How often could you be on the server:
Anytime I don't have collage work to do.
Have you ever roleplayed before? If so what did you roleplay (if you can remember)?:
I was part of Tales of Mel-Lenxia and Legends of Talarra though not being a major part in anything (hopefully I can change that here).
In your own words define Metagaming and Powergaming:
Metagaming is when you have an OOC conversation with somebody and they give you IC information, and then you go have an IC conversation with that information and use it against the other person, even though you character shouldn't know that IC. Powergaming is when you have an IC rp fight and you make yourself completely op and unable to beat.
How did you hear about us:
From iCreate. Other frinds Lenlo, Turikar, and LemonDropzz(or TehLemon depending on which he chooses) (2 of them haven't applied yet).
Have you read and agreed to all the rules (Found Here.):
Yes
Any other information you'd like to mention:
Hopefully I can actually find RP on this server compared to the other two where I could only find the ones which were planed.
In Character (IC)
~~------------------------------------------~~
Character Name:
Kairi
Character Race and Patron God:
Litus | Essani
Appearance:
Kairi is a 23 year old dark skinned woman around the height of 6'1 with emerald green eyes, and lush, long red hair. She will always be seen with a cap on her head which also bare her goggles that she uses when smelting and other craft work. Around her neck you can find a necklace with an emerald inside, this necklace was what she believes was her first craft work and it was done with her dad who had a major part in making it.
Backstory (Please explain your character's life, show how they act, why they act as such.):
Kairi was born 2 years after the Cataclysm into a hard working Litus family. Her mom was a house wife and her dad, to bring in the money, went into smithing.
Kairi at the age of 6 was curious by all the heat that was coming from the room in which her dad worked, when she walked in she was hit by a heat wave that made her cover her eyes. Still being afraid of the heat she now wears goggles anytime she smiths and will always have them close by. After her dad noticed her cowering in fear from the heat he walked over to her and calmed her down, handing her goggles to help with her new fear of the heat. Kairi's dad showed her what he had been working on and when she saw it, her eyes sparkled in amazement. The item was a gold necklace that had an opening in the middle of the pendent. Her father said that he had been trying out different things to do with his smithing talents and started making jewelry. While talking her father pulled out an emerald this size of the hole and asked Kairi to help him finish the necklace by placing the emerald in the hole. Her dad grabbed her hands to help guide her and, while she had a big smile on her face, placed it into the slot. The necklace turned out to be a gift for her mother, and when her mother received the gift she was overjoyed. Kairi, realizing the happiness that was brought to her mom, wanted to be just like her dad and make anyone, that wanted it, happy with her creations.
Years past as Kairi was mostly found in her dad's workspace learning anything she can, and her skills grew with that time. Kairi's mother was a big follower in Essani and tried to teach Kairi her ways. Kairi always being distracted by wanting to get to the forge only picked up on certain teachings. The main two being "any killing other than in self defense is a terrible moral crime" and "killing plants…is a serious matter". Kairi picked up the first one by just playing with the weapons she had created and her dads, her mom wanted to make sure that she wouldn't get herself killed. She found out the second one in a hard manner.
Her mom was on her death bead while Kairi was 9 and Kairi thought it would be a good idea to get some flowers from the forest to give to her mom. When she brought them back, with a big smile on her face, she had it immediately changed to a frown. Her mom yelled at her for taking the flowers out of the ground and how Essani would be very upset if those flowers died. Kairi's mom asked her to go quickly put the plants in a pot in the other room. Kairi rushed into the other room found the pot and quickly dug a hole in it but was stopped by a strange feeling in the soil. As she pulled out the strange object, at the same time planting the flowers, a tear had came to her eye as she had realized that it was her mothers necklace. Kairi never walked back into the room that day. Kairi always wore her mother's necklace from there on out, always wanting to make a garden and collecting flowers and quickly placing them around the house.
More years past and more years in training along side her dad. Kairi quickly past up her dad in jewelry making, but never getting close to his smithing skills. By the age of 18 her father passed away from age, and him being gone, Kairi had to sell the house to collect a source of money with no more income coming in. After walking around the land of Pavon, going from smithing job to smithing job, exploring it all for the first time, all Kairi found herself wanting to with her saved up money was to build a house that had a forge in it and make that house have a beautiful garden. She hoped that her house will become the place to go to get the best jewels and armor in the area to make people happy, and to make her happy.
What are your character's skills and weaknesses:
Excellent smith, and an average jewelry maker but hopefully will get better as the days pass. Although she can make amazing weapons she can't be good with them in any fight or be that all helpfull.
Example RP (Create a situation and roleplay it out.):
Kairi was walking on the path into the forest to look for new flowers to add to her garden. On the way there she saw a odd man walking down the road. Being shy and not wanting to start a conversation she quickly looked him over, made eye contact, smiled, and kept walking. The man, after smiling back and passing her, turned around and said "Wait a second." Kairi turned around flipping her long hair and batting her eyes in a joking manner, then took a step toward him, becoming serious and said "Is there anything I can help you with?" The man chuckled at what had just occurred, smiled and said "That was exactly what I was going to ask, am I on the correct path toward the nearest town? I need to find a smith to help me repair my armor." All Kairi heard was smith. She jumped in happiness for the opportunity that had come up. She mellowed out and said, "It just so happens that I am a smith that could help you and can take you to the nearest town." The man was shocked that this women in the middle of the forest could be a smith. The man not wanting to have a women work on his armor said, "Thanks but could you just confirm that this is the right way to the town." Knowing why the man didn't want her help, Kairi pointed him off in the correct direction and went back to searching for flowers.
Pictures of your skin, all sides (If needed put it inside a spoiler.):
Front:
Back: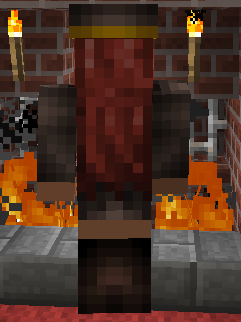 Any other information you'd like to add about your character:
Kairi, not being around that many people her whole life is really only good in having conversations about smithing and jeweler.